Every year at Hillsong Conference, Hillsong Church and Brushfire partner to provide registrations and seating communities for Hillsong Conference Sydney with tens of thousands of delegates, endeavouring to provide the best registration experience to every single one of them.
As Hillsong Conference London kicked-off yesterday, we thought we'd take you behind the scenes and show you how this process looked like on the ground this year.
JULY 9TH, 9:00 AM
After months of preparation, Hillsong Conference is about to start and Monday is "bump in" day for the registrations team! As the team gets to the venue, the registration marquees are already ready for our team to start setting up, which is a great help.
It's now time to start setting up the self-service kiosks for delegates to print their pass if they have not received yet, help with any seating community changes, and support new registrations – it's always a great moment as new people join the journey of Hillsong Conference.
Once everything is ready outside, it's time to move inside the venue. This is when the team is busy setting up the registration stands and the auto-register stands for registrations for next year's conference, which shall play a key role when Ps. Brian & Bobbie Houston launch the vision for Hillsong Conference 2019 later in the week.
JULY 10TH, 12:00 PM
Conference starts today and the first delegates are arriving to the venue and heading to the Registrations Marquee to get help with their registrations and seating. Using the Brushfire kiosks, delegates can pick up their passes and change their seating if required.
JULY 10TH, 6:00 PM
The night session is about to start and our night registration delegates have started arriving and are queueing for their seats. Using the Brushfire Check-In App, we scan delegates as they arrive and are given their armband for the evening rally. They are then directed to their seat by our amazing volunteer teams.
JULY 11th, 5:00 PM
Wednesday is a very special day, as we launch the vision for Hillsong Conference 2019 and inspire everyone to join the chorus because: "This Is For Everyone"! Delegates are able to register easily and quickly at the registration stands, auto-register stands or conveniently through the Hillsong Technology Events App ("Conference App").
The auto-register stands are super easy and quick for delegates to register by scanning the QR code on their delegate pass (which will transfer their details so they don't have to enter them all over again). The entire process takes less than 60 seconds! Through this process delegates can register into the same group as this year's conference, making the process easy for our group leaders to gather their group and for delegates to sit with their friends.
This year we also launched our auto-registrations through our Conference App, allowing delegates the ease of registering wherever they were located, through their mobile device!
JULY, 12TH, 9:00 AM
Conference is well underway and it's not uncommon for delegates to need help with the registration process or seating communities. We have a helpdesk where our team is more than welcome to help every person take their best next step.
JULY, 12TH, 1:00 PM
One of the highlights of Hillsong Conference is Masterclasses and we always plan them in a way that gives opportunity for everyone to attend their Masterclass of choice. Unfortunately, some masterclasses are at capacity sooner than expected and some people don't get to attend the one they were looking forward to. Whenever this happens, our team scans the delegate's QR code and later sends them a link with the recording of that particular masterclass.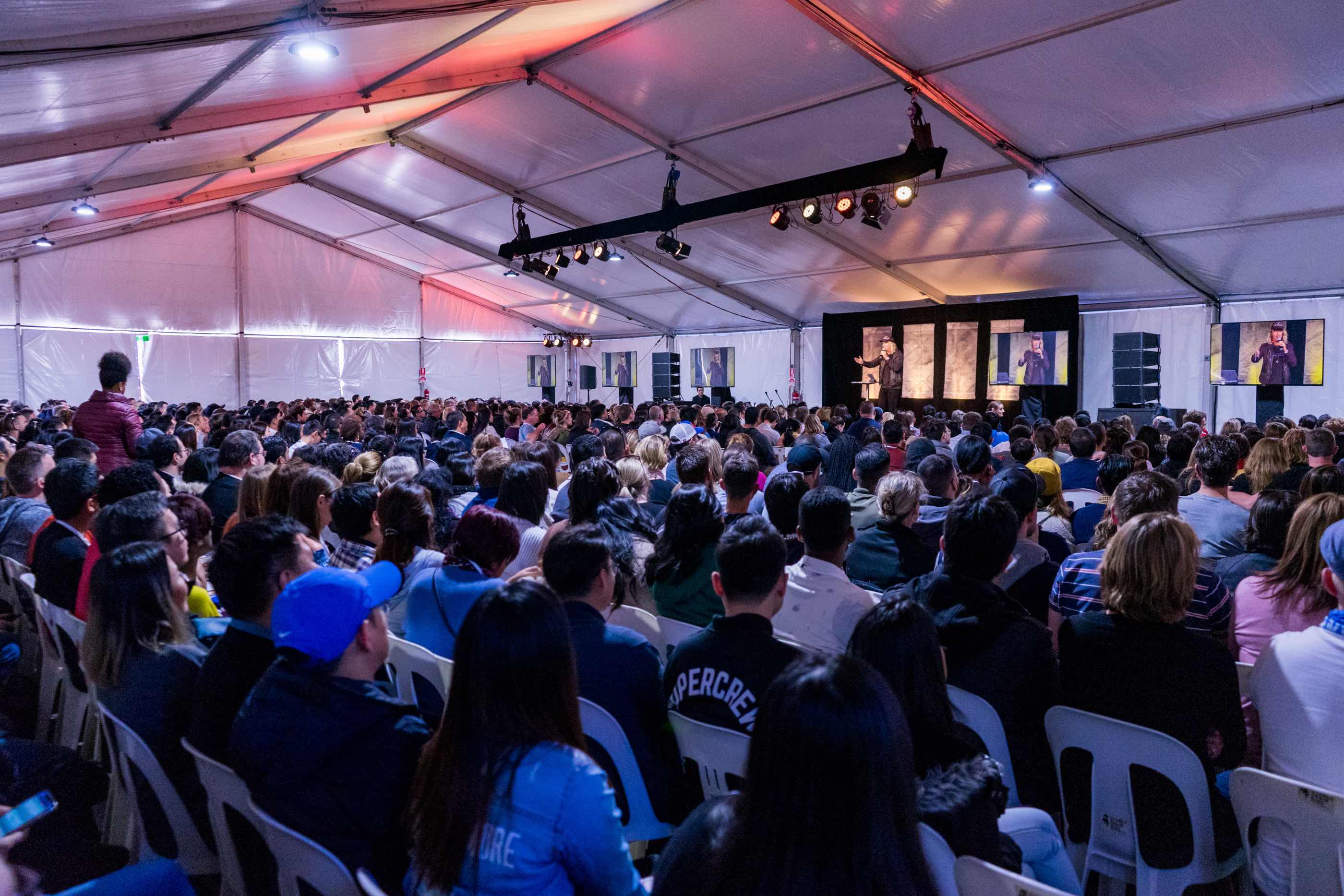 JULY, 13TH, 9:00 AM
Friday is the last day of Conference – and what a keep it has been! During this morning our team is completely focused in supporting delegates to register for Hillsong Conference 2019 and keep being a part of the unfolding story of all God is doing in and through this Conference.
JULY, 13TH, 6:00 PM
Bump-out! Always a highlight. As the last night session wraps up, our teams will pack down all the registration stands, auto-register stands and make sure we don't leave any gear behind. It's always sad to end Conference but we leave with a sense of expectation for what's ahead!
And that's it! Thanks for joining us on this journey, we hope it was insightful and will add value as you prepare your own events and conferences. The partnership between Hillsong Church and Brushfire is a thriving one and has added so much value to our delegate's experience at Conference over the years. To know more about Brushfire, please check this link.
Melanie Seymour
Hillsong Church