As Colour Conference, our global women's movement, celebrates its 25th anniversary, we chat with Conference Art Director Nicole 'Noodle' Scott for a behind-the-scenes look at the 2021 Byron Bay shoot.
Last year, amid COVID-19 regulations, Black Lives Matter protests and global economic uncertainty, our design team embarked on a mission, led by Art Director Nicole 'Noodle' Scott, to capture photos and footage for the Colour Conference 2021 campaign.
"It was a crazy time to be shooting. COVID impacted every area of the shoot, from the amount of people we could take, to where we stayed, to how we travelled, to where we could get clothes from. We had costumes we were borrowing from friends overseas arrive two weeks after the shoot, and we had to send them straight back."
With experience art directing more than 20 Colour Conference shoots in locations such as India, China and California, Noodle approached the 2021 conference theme 'Be Found In The Kiss: Tender, Divine, Eternal', with lots of research.
"The Kiss is hard to represent visually. It's really obvious, because a kiss is a practical thing and everyone knows what that looks like, but Bobbie is talking about the intimacy of God, and so to visually represent that is hard. It takes a lot of thought, a lot of praying, a lot of reading, and then trying to bring it to life visually."
Founded by Hillsong's Co-Global Senior Pastor Bobbie Houston in 1995, Colour Conference has generated a global following over the past two decades. More than 47,000 women and girls attend the conference every year in Sydney, London, Cape Town, Kiev, LA and New York. This year, for the first time, the conference will be exclusively online.
"I think each year we just add a little bit more to the conference campaign, rather than reinvent it. It works, it honours women in such a beautiful way. The Colour conversation started 25 years ago and it hasn't stopped or changed. The mandate, message and words Bobbie put over the conference are still current to this day."
Remaining true to the conference's core mission of placing value upon womanhood was an important consideration for Noodle when planning the 2021 shoot.
"A piece of feedback from our last shoot really touched me. It was a college student and she had always thought of herself, for lack of a better word, as a tomboy. She had never felt comfortable thinking about being at girls' things or women's groups, but she said the photos from our campaign made her feel, for the first time, part of a greater sisterhood."
"I started thinking, how can we do this (shoot) better? I read Bobbie's Sisterhood Declaration (a mandate outlining Colour Conference's key values) which talks about women of every age, status and background. It couldn't be more inclusive."
Noodle, together with her team, decided to shoot nine different characters to represent different faces of womanhood: the business woman, the athlete, the wise woman, the wild woman, the domestic goddess, the studious woman, the adventurer, the artist and the musician.
"I thought, why don't we draw from the basics and create a shoot where all women are represented, and we did our best. Who knows, some women still may think they weren't represented but I think everyone will get the idea. Some women love sport, some women love writing…we tried to represent everything."
Preparation for the three-day shoot started two months in advance. One of the biggest planning challenges was finding a shoot location.
"The COVID-19 restrictions made it more difficult, because our variety of locations was greatly condensed. It wasn't just Australia, we were restricted to the state of New South Wales."
"When Bobbie first spoke to me about the kiss of heaven…in my mind, I went to the idea of mansions in heaven. A beautiful, amazing place we can't even dream about here on earth. So, I went in search of a palace-of-heaven type place we could get to within New South Wales, that fit within our modest budget."
After much research, Noodle came across a french style estate located in Byron Bay's picturesque Hinterland region. Boasting antique furnishings, and surrounded by lush rainforests and fields, the property provided several different environments to shoot.
"From the second we walked on the property, I knew it was the right place. I felt a peace about it, I felt like somehow God had provided us with this little piece of Europe in New South Wales."
Travelling to the property with a small crew for the shoot including volunteer stylists and models, a photographer and video operator, Noodle says relying on her instincts and being ready to change plans at the last minute proved an invaluable tool. One of the signature shots in this year's campaign was captured spontaneously in twelve minutes.
"We'd just sat down to eat dinner and thought the day had wrapped when I noticed the sun setting over the property's fields. I turned to our video editor and asked 'how long have we got until the sun actually finishes setting, until darkness comes?', and he was like 'probably 12 minutes'."
"So we gathered our models, raced to the field and started filming. I've never seen girls get ready so fast in my life, but it was worth it; the photos and video footage look stunning."
Noodle hopes this year's conference campaign brings fresh hope to women after the difficulties of 2020.
"I hope there's some healing in hearts that are hurt, I hope people get a glimpse of this campaign and see the beauty in Christianity."
"Bobbie's preparing an important message that's valuable, strong and inclusive. I think it's going to change people's lives. I think even the strongest, most put-together woman will show up and still walk away changed."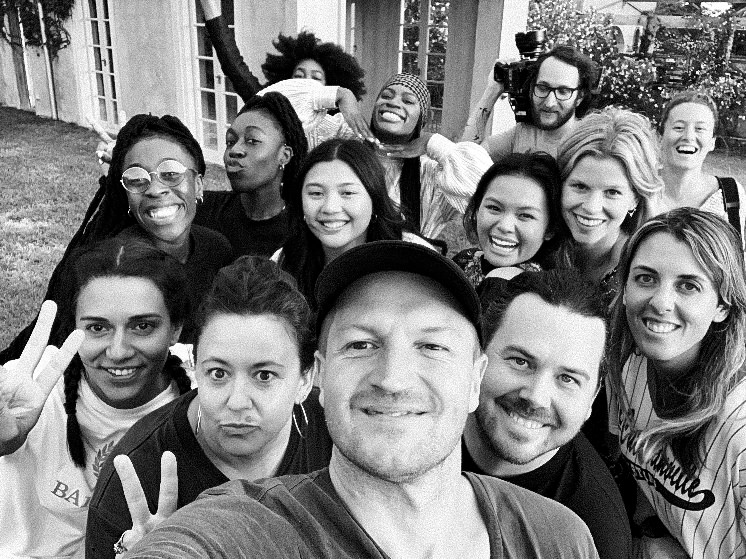 Colour Conference 2021 Online is available ON DEMAND until May 31st 2021.
Find out more at ColourConference.com
Interview featured in Artists Still Live Here Issue 2 magazine