He handed out gifts of apostle, prophet, evangelist, and pastor-teacher to train Christ's followers in skilled servant work, working within Christ's body, the church, until we're all moving rhythmically and easily with each other, efficient and graceful in response to God's Son, fully mature adults, fully developed within and without, fully alive like Christ.
— Ephesians 4:11-13 (MSG)
Imagine being in a team of people who are all fully mature and fully alive… I think that's a prerequisite for absolute harvest and success! But that doesn't just happen. It comes when we are each submissively and harmoniously flowing in our gifts together, yielded to Christ. Over the years, I have practised thinking about every action, response and thought process and ask myself, Am I acting in a way that is fully mature and fully alive? The more you practise something, the fuller it becomes in you. We are called to practise our life in such a way that will allow maturity and the fire of God to work together.
Maturity can be defined as lacking nothing, integrity, a constant sense of God, mental and moral character, rising to greater levels of knowledge. And to be alive is to be filled with God's presence, power, and riches of Christ; a continual infilling.
2020 was a year the whole world was shaken. 2021 was a year of working out our convictions in response. I believe 2022 is a year of acting on our convictions to become fully mature and fully alive to the purposes of God.
You learned Christ! …everything… connected with that old way of life has to go… And then take on an entirely new way of life—a God-fashioned life, a life renewed from the inside and working itself into your conduct as God accurately reproduces his character in you. — Ephesians 4:20-24 (MSG)
To be fully mature and alive means making a definitive decision to step into new levels of maturity. Let's look at what that means.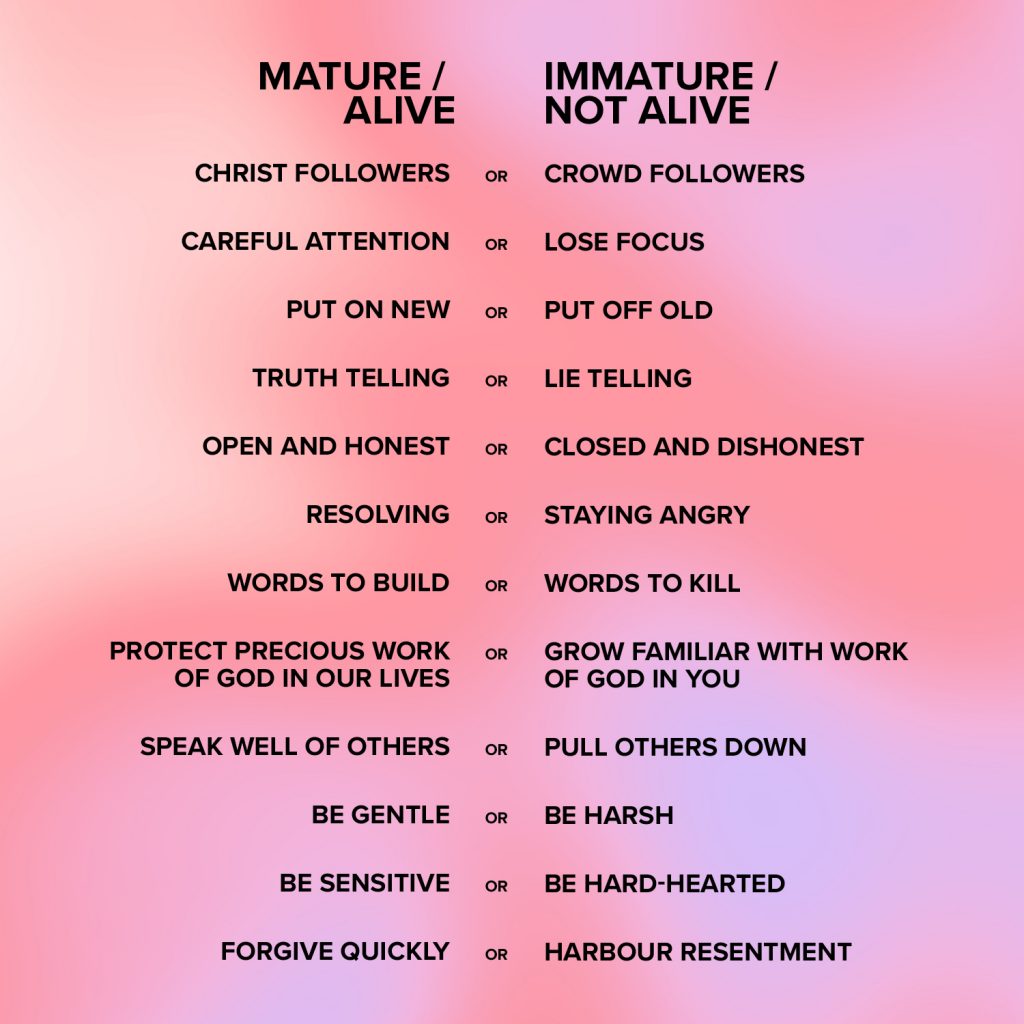 CHRIST FOLLOWER, not a crowd follower. When we imitate Christ, we become like Him.
PAY CAREFUL ATTENTION or lose focus. There are so many things that can distract us and take our focus away from what truly matters. Our attention should be on God and His kingdom.
PUT ON THE NEW, put off the old. Ask yourself, What should I be putting off and what should I be putting on? There will always be some area of your life that needs renewing.
TRUTH TELLING or lie telling. Do you tell the truth, or do you compromise to get out of a tight spot? If something needs to be addressed, be truthful and respectful; deal with issues, don't hide them.
OPEN & HONEST, not closed and dishonest. Be authentic. People often say to me, "Oh you're so real!" but I always think, What am I supposed to be – fake? Living with openness and honesty must be tempered with wisdom and grace.
RESOLVING, not staying angry. We all get angry sometimes, but Ephesians says, "Don't sin by letting anger control you." We must make it a priority to resolve conflict and anger.
WORDS TO BUILD, not words to kill. What words do you speak to others? Do they lift up and build or do they tear down? When confronting truth, do it in a way that is constructive; you can say absolutely anything to someone IF it is said with love.
PROTECT THE PRECIOUS WORK OF GOD IN OUR LIVES; don't grow familiar with God's work in you. Being intimate with the Father is the greatest thing you can have so keep protecting it. Hanging on to things you should let go of will weigh you down.
SPEAK WELL OF OTHERS, don't pull them down, even if there is truth in what we say. Jesus said that we will be judged by the same standard we use on others. Choose your words wisely and walk in love.
BE GENTLE, not harsh. I wouldn't want to work in a team of people who are harsh. In my opinion, the best leaders are not the charismatic leaders, but those who are fully mature and fully alive.
BE SENSITIVE, not hard-hearted. Keeping the 'soil' of our heart receptive to God and to others is a constant requirement so we don't develop a hard heart.
FORGIVE QUICKLY, don't harbour resentment. Is there someone you need to forgive? Are you living in duplicity, pretending all is well on the outside while harbouring resentment internally? If resentment lingers in your heart, it becomes unforgiveness and eventually bitterness.
To be fully mature and fully alive remember:
1. Desire maturity.
Not 'old' but fully grown in your outlook, walk with God, relationships and behaviour. Keep going after the 'meat' of a mature life, accountable to God.
Crave pure spiritual milk, so that by it you may grow up in your salvation. — 1 Peter 2:2 (NIV)
2. Journey well through the fire.
Journeying through 'fires' of challenge drives us toward maturity. That's why we need each other – we share a oneness in Christ as His Body.
Consider it pure joy, … whenever you face trials of many kinds… Let perseverance finish its work so that you may be mature and complete, not lacking anything. — James 1:2, 4 (NIV)
3. Dig deep for the gold.
To find the 'gold' we must be attuned to God, listening to His Spirit and awake to others. Practise listening; it's a sign of maturity and a well of 'gold'.
4. Keep choosing faith over fear.
There's an account in Acts 20 about a young man named Eutychus who falls to his death from a first-floor window while Paul is preaching. Paul stops what he's doing and raises Eutychus from the dead. He chose faith over fear. Maturity continues to choose faith, not fear.
5. Be a doer of the Word, not just a hearer.
If you only read God's Word out of a sense of obligation, then it won't impact your spiritual growth. To be a doer of the Word you must tune in to God's voice, allow Him to transform your thinking and motivate your decisions.
Act on what you hear! Those who hear and don't act are like those who glance in the mirror, walk away, and two minutes later have no idea who they are, what they look like. — James 1:22-24 (MSG)
6. Take every thought captive.
Our minds are a battlefield. A mature life is committed to arresting every wrong mindset and pulling it into obedience to God's Word. It is a practise and discipline we must develop. Bill Johnston said, "Our ability to do spiritual warfare is directly related to our ability to take every thought captive. It's like capturing a terrorist, rehabilitating them so they now work for you."
We use our powerful God-tools for smashing warped philosophies, tearing down barriers erected against the truth of God, fitting every loose thought and emotion and impulse into the structure of life shaped by Christ. — 2 Cor 10:4-5 (MSG)
I pray you will take up the challenge to maturity and be fully awake to what the Spirit of God is doing in these times.