"Children are the world's most valuable resource, and best hope for the future." – John F. Kennedy
Sunday 12th June marked World Day Against Child Labour. The number of children involved in child labour has risen to 160 million globally – an increase of 8.4 million children in the last four years. This year's theme is: "Universal Social Protection to End Child Labour", focusing on the need for social protection schemes to be in place to protect children from child labour. Social protection is a human right, and universal government social protection systems are needed to help eradicate poverty, and to prevent vulnerable children from being targeted for child labour.
One of the most effective methods of preventing child labour is through keeping children in school. That's why the work of organisations like Vision Rescue is so important. Vision Rescue work to bring educational pathways to children living in the slums of Mumbai, and work to empower parents by providing training for vocational skills to promote financial independence; both essential elements in preventing child labour. On this World Day Against Child Labour, we wanted to tell the story of 5-year-old Farah, who is just one of the numerous children Vision Rescue has helped.
Farah's* Story
Twenty years ago, Farah's father moved to Mumbai in search of work. With no employment opportunities back in his village, Farah's father knew that Mumbai offered multiple employment opportunities. He settled into a makeshift hutment in one of the poorest slum communities in Mumbai, which is bordered by the city's largest garbage dump. The unclean surroundings and poor sanitation often affected Farah's health. Living in unauthorised settlements and abject poverty like many others in the slum community, Farah's family also struggled for basic necessities such as drinking water, electricity and sanitation.
In 2019, Farah walked into Vision Rescue's Learning Centre inside her slum community. Vision Rescue was able to provide her with quality education, nutritious meals, health check-ups, dental assessments, stationery, uniforms and much more. Seeing her child's progress, Farah's mother began to attend Vision Rescue's focus group meetings too.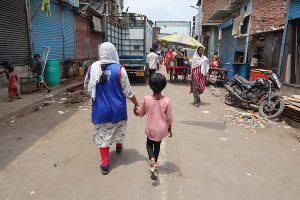 The COVID-19 pandemic made things difficult for Farah's family. With no savings or source of income, they began falling behind in rental payments. They were unable to make payments in time and slipped into debt, and they became unable to afford food. Vision Rescue was able to provide Farah's family with groceries each month throughout the pandemic. It was during this horrific time that her father passed away.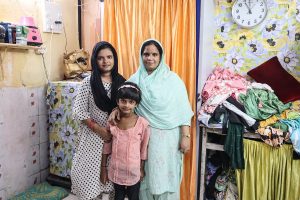 Left with no choice, Farah's older brother took up the responsibility of a father and now works to provide daily basic necessities for his family, while Farrah's mother takes tailoring orders and looks after the children and the home.
Whilst the family is undoubtedly still facing struggles, Vision Rescue enabled Farah to study throughout the pandemic. When thousands of other children in poverty could no longer continue with their education because of the digital divide, Farah was able to continue. When Farah's mother attended the bi-annual Open House to receive her daughter's report card, she was thrilled to see her daughter's progress.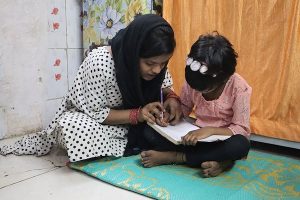 In the face of her father's loss, Farah and her family have been able to hold onto hope through your support. Farah dreams of becoming a Policewoman when she grows up. Vision Rescue looks forward to enrolling Farah in formal school soon to help her achieve that dream.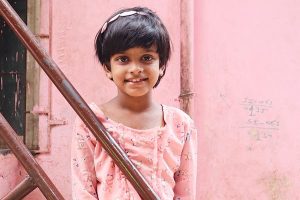 Thank you for your support of Vision Rescue through the Hillsong Foundation. As individuals and a community, let's continue to pray for the end of child labour and exploitation.
Find out more about Vision Rescue and our other partners.
Give to Vision Rescue through the Hillsong Foundation.
*Names changed to protect identity.