This story has been shared by Dr Nandi Spry, who works as a Diversity, Equity and Inclusion consultant focused on partnerships and is also a One80TC board member.
Nandi was born in Lusaka, Zambia and has a mixed-race African Australian background. Her mother is an Indigenous Lozi tribe woman. During her formative years, she went to an International School in Lusaka for primary school and Katherine High School in the Northern Territory for secondary school. When she turned 18 years of age, Nandi started working at Hillsong CityCare and worked hard to endorse and accredit the Shine and Strength Programs. During that time, she completed a Doctorate in Business Administration and received the City of Sydney Youth award for working with young people. Her other roles have involved teaching first year Bachelor of Nursing Students on Communication & Diversity and Health & Society. Nandi how works on partnerships that improve leadership and structure for large corporations.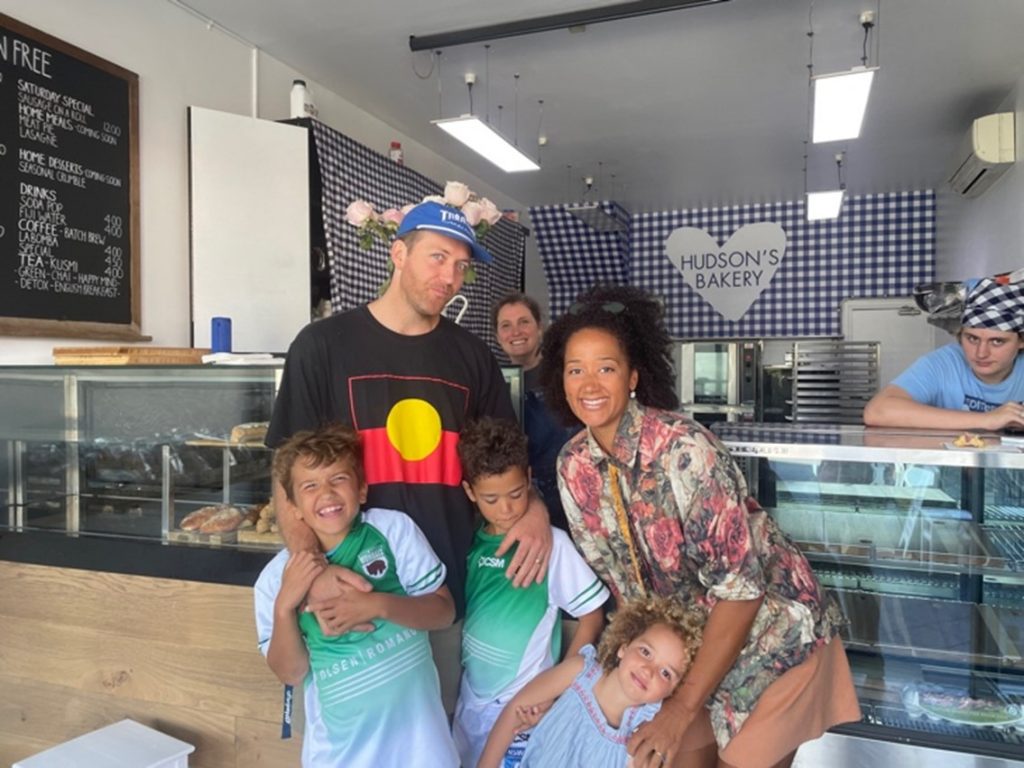 Dear Church family,
This week is Reconciliation week. This means a great deal to so many of us who represent minority groups and work to address the cultural divide.
My husband and I both are passionate and work hard to partner with First Nation people and companies because we believe that is the way forward for a more reconciled Australia. We acknowledge, honour and pay our respects to the First Nation people where we reside which is Gadigal country. We also continue to respect the elders and leader's past, present and emerging. Here is a pic of our family.
A story you will find quite bewildering and appalling, possibly even shocking to know that everyday racism still exists:
'This weekend I was at my son's sport and at the start of his game a younger age group had a game. Of the teams playing in the Under 6's, one side from a very Indigenous Australian area of Sydney only had half a team. The opposing team had many players and typically in this instance, the teams share players to create a game. Of the team with an abundance of players, the parents went to the ground manager to confirm that they did not want their five-year-old playing with 'those kids'. The ground manager asked why they didn't want their 'white kids' playing with the 'Indigenous Australian' kids. The five to six parents were laughed at as the First Nation ground manager explained that if she did not laugh, she would scream at them as this is racism. The situation was escalated and sadly both teams had to forfeit their game. Racism was not going to be tolerated that day.'
Here are the take aways:
Racism is learnt – Children are not born with prejudice. They are taught at an early age. There is no scientific evidence that shows lighter skin tones carry more superior powers. It is a social construct that is man made to suit some races and not others.
Be a Culture Bridge – I understand wanting to dilute the moment and making efforts to deescalate a situation is a generous outcome. However, this only brings about a temporary solution. If we see ourselves as intermediaries that are not ignorant but active in calling out racism, our communities will be a better place for our children. First Nation people are already weary in dealing with this in everyday life.
Correction should not be condemnation when addressing racism – If you belittle people, it pushes them away and can create further disposition. Confrontation as an act of love will help to build bridges.
Nandi Spry
If you're a part of Hillsong Church we'd love you to think through how you are acting towards reconciliation in Australia with our Aboriginal and Torres Strait Islander people! The Bible tells us that "God is reconciling the world to Himself" 2 Corinthians 5:19 and is asking us to partner in the ministry of reconciliation too. You can find out about local Reconciliation Week events in your area here: https://nrw.reconciliation.org.au/calendar/