This week we celebrate National Youth Week. In these times when the world can seem more tumultuous than ever, and the decisions that are being made by those in leadership will have ripple effects that most affect the generations to come, it's important that we create space to consider what matters to our young people.
National Youth Week is organised by young people, for young people in communities across Australia. It is a time for youth to share ideas, attend live events, celebrate their achievements as well as providing an opportunity for the youth to raise issues of concern. It's important that we take the time to listen as the youth make their voices heard.
National Youth Week is celebrated nationwide between April 4th – 14th, and this year the theme is: It's up to YOU'th, providing an emphasis on empowering the youth to be responsible for the changes they want to see.
At CityCare, we're all about backing young people to step confidently into a future they have the power to shape well. We place high importance on listening to our youth, which is a responsibility that all our youth workers seek to uphold as they foster safe environments for young people to flourish within.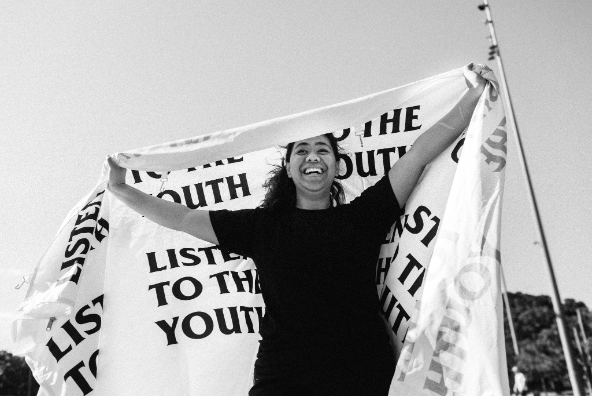 To mark National Youth week, one of our longest serving youth workers from our City Campus, Danni, shares what she finds inspiring about her role and the young people she works with:
Q: How long have you been working with CityCare? 
​Seven years and seven months!
Q: What youth programs have you been involved in over that time?
When I first started my role, I was the only youth worker. I began with running our Shine program for the girls inside juvenile jails, and the rest I started by cold calling schools and organisations. Since then (after many mistakes), we've had Safe Spaces, Shine and Strength programs running at multiple high schools around Sydney, weekly Safe Spaces at PCYC running programs where the youth involved are 90% indigenous, community carnivals, basketball competitions and have made strong partnerships within local communities. The best part is that we have also grown and been able to add more staff and the team is phenomenal. They have grown the quality of what we bring and have been a great source of encouragement.
Q: What is something valuable that you believe these programs impart to the youth?
Research has shown that youth search for 'non-parental' mentors during high school years, and this can go in either a positive or negative way depending on who is around in their lives at that crucial point. What a privilege to be able to have a small part in shaping the way someone sees themselves, their life and their future. Being able to give them practical tools to help build their lives positively and just to be a person who can be a safe place; it's not a small thing. We are able to create different pathways for the youth where they don't believe there are other options or other ways to live. I know it was a significant turning point in my life that I am forever grateful for, and now, we get to be a small link in a chain to do that for others.
"Longitudinal research on natural mentoring relationships indicates that adolescents who report having an important non-parental adult in their lives tend to report greater psychological well-being, including self-esteem and life satisfaction (DuBois & Silverthorn, 2005)."
Q: What do you like about working with young people?​
Nothing is ever boring! Every new group of Shine or Strength participants is different, every group of youth we work with is different. I can teach the same curriculum to ten different groups and have the impact be completely different for each of them.
Q: Do you have a particular moment that stands out most to you?
​I love the stories of the 'one.' There was a young indigenous boy who was a part of our Safe Space programs for years. The mentorship and support he received, even if it seemed small, allowed his confidence to grow. He is the first in his family to graduate high school, he is now employed by PCYC, we've helped him to get housing and he is a junior leader now giving back to the community.
We can all take a moment this National Youth Week to celebrate the young people in our own families, lives and communities, and listen to what matters to them.
Discover more about SHINE Girl, Strength, Safe Spaces, Youth COACH and other CityCare Programs