Peace can be elusive but what if it can be found in the most unexpected places? What if the perfect place to wage peace is in the middle of a crisis?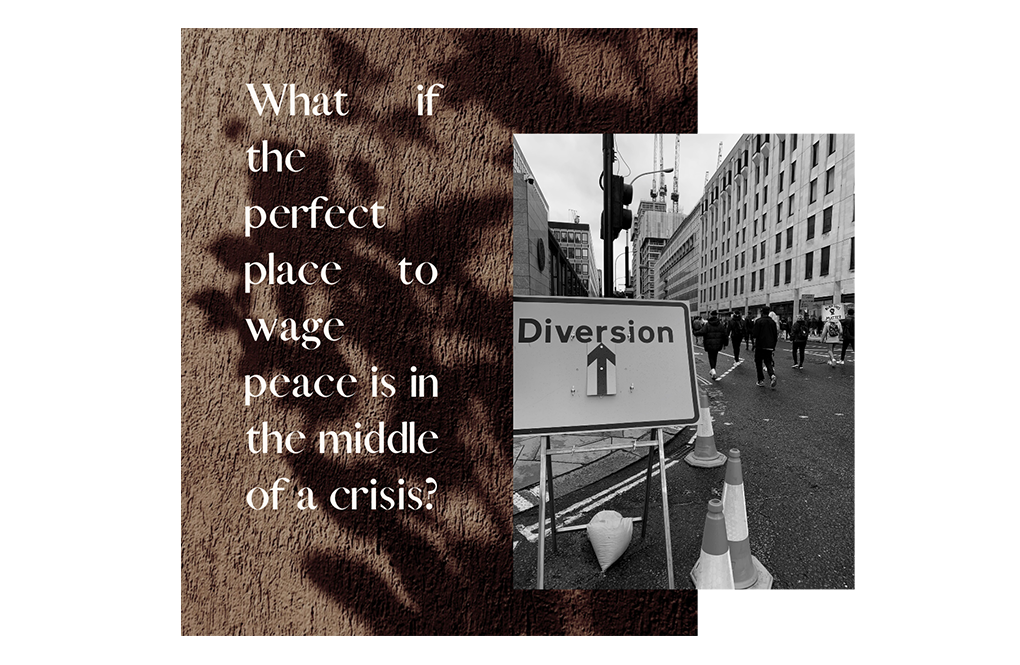 After the devastating effects of WWII, the United Nations was set up with a mission the organisation still carries today: maintaining international peace and security. How? By helping to prevent conflict, enabling parties in conflict to make peace, deploying peacekeepers, and creating the conditions to allow peace to hold and flourish. What a bold mission. Since 1945, the world has witnessed the UN triumphantly succeed but also at times fail at keeping peace around the world. Truth be told, peace is elusive. It seems humanity has never really known a world where peace reigns completely. Yet, they have the power to imagine and create this world peace to the best of their abilities. The word 'peace' appears in the Bible 420 times, each time taking on new meaning and shape. Many hold dear Jesus' famous words in John 14:27,: "Peace I leave with you; my peace I give you." Yes, peace is God's gift to the world but what comes next is even more compelling: "I do not give to you as the world gives…" There seems to be a peace, which is beyond this world, beyond the UN's mission, a peace which might look nothing like we expect peace to look like, but it's a peace that's ours for the taking or rather ours for the making even when there is turmoil all around. How do we grasp it?
Making peace

"Blessed are the peacemakers, for they shall be called sons of God." Matthew 5:9 states that people can make peace. They have it in their power to create peace. In a sense, this resonates with one of the UN's missions: deploying peacemakers. These peacemakers are also known as "blue helmets". They are tasked with going into conflict zones worldwide to make peace by protecting civilians and creating processes and an atmosphere where peace can take root and thrive. Similarly, God's people are called to be peacemakers.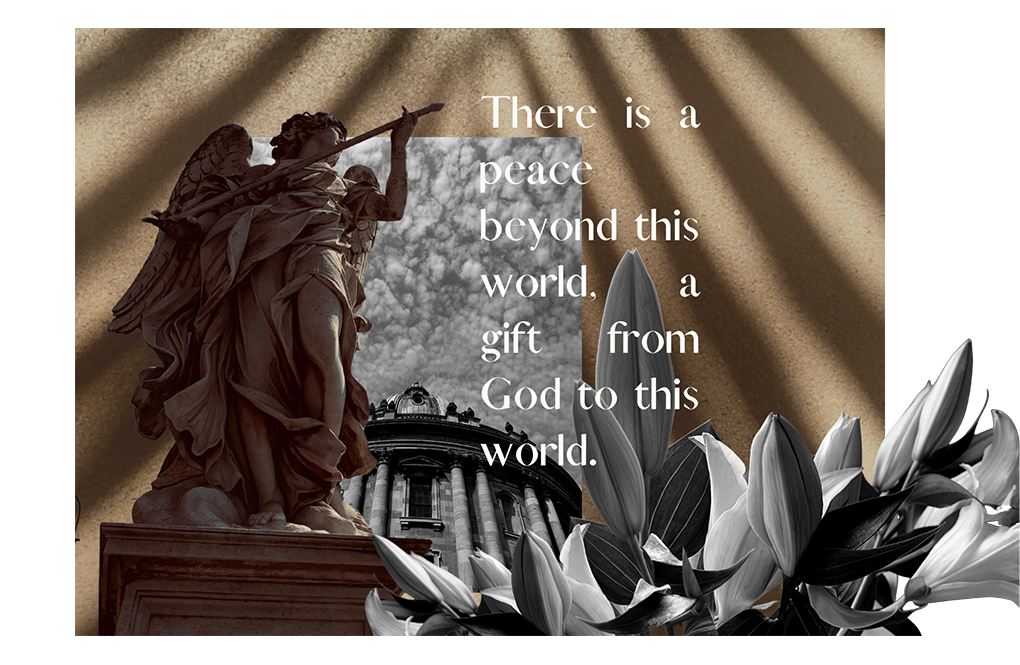 Making peace is a key marker of their affiliation with the creator of the universe. However, making peace also means taking risks. It involves going to the places where peace is lacking and these are often places of turmoil but they are not always physical battlegrounds. They are often mental, emotional, spiritual places that can only be stepped into through vulnerability so that they can become grounds for peace. The last year has been a battle for many, but it has also challenged many to learn how to make peace, to create it wherever they may be. To build it within rather than look for it outside of themselves. That's the true blessing of the peacemaker.
Where there is goodness, there is peace

"How beautiful on the mountains are the feet of those who bring good news, who proclaim peace, who bring good tidings, who proclaim salvation, who say to Zion, 'Your God reigns!"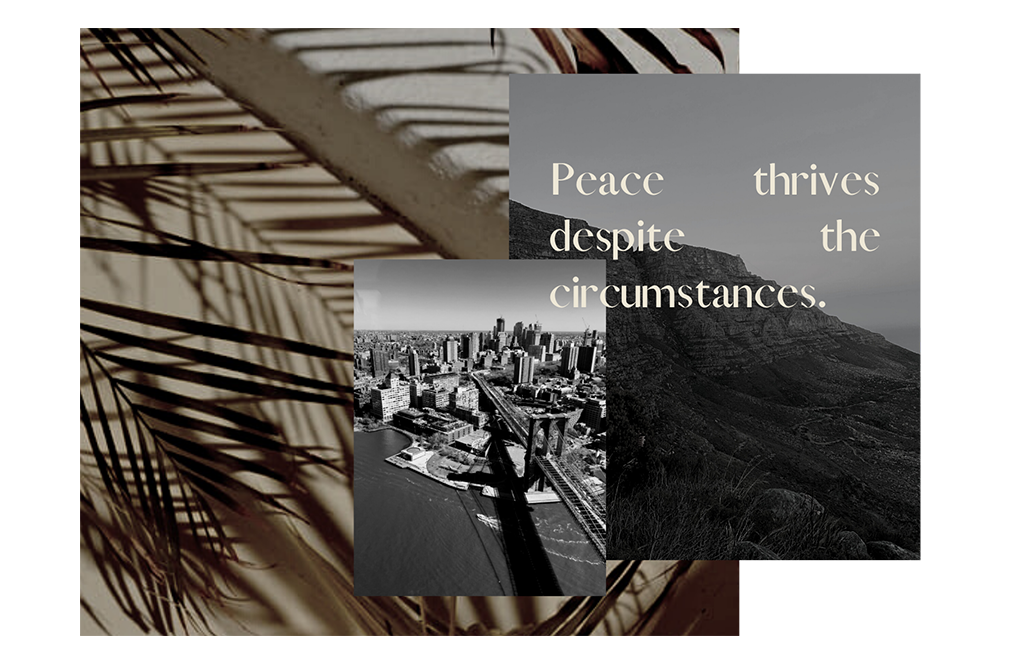 Isaiah 52:7 is a reminder that peace is to be proclaimed. Celebrating peace is a key way to establish it anywhere. It also means not taking peace for granted. When peace manifests, it's important to proclaim it. Whether it is in our lives or the lives of those around us, peace is so precious. But how exactly does one proclaim peace? Often where there is peace there is also goodness. Just like this verse, goodness comes before and after peace. First, "they bring good news", then "they proclaim peace" then "they bring good tidings". There is a call to focus on the good because in goodness peace manifests. By seeking goodness and doing good, people proclaim peace even when there is turmoil. It's a reminder that during this pandemic, focusing on the positive and doing good is where many can find peace. It is how peace thrives despite the circumstances.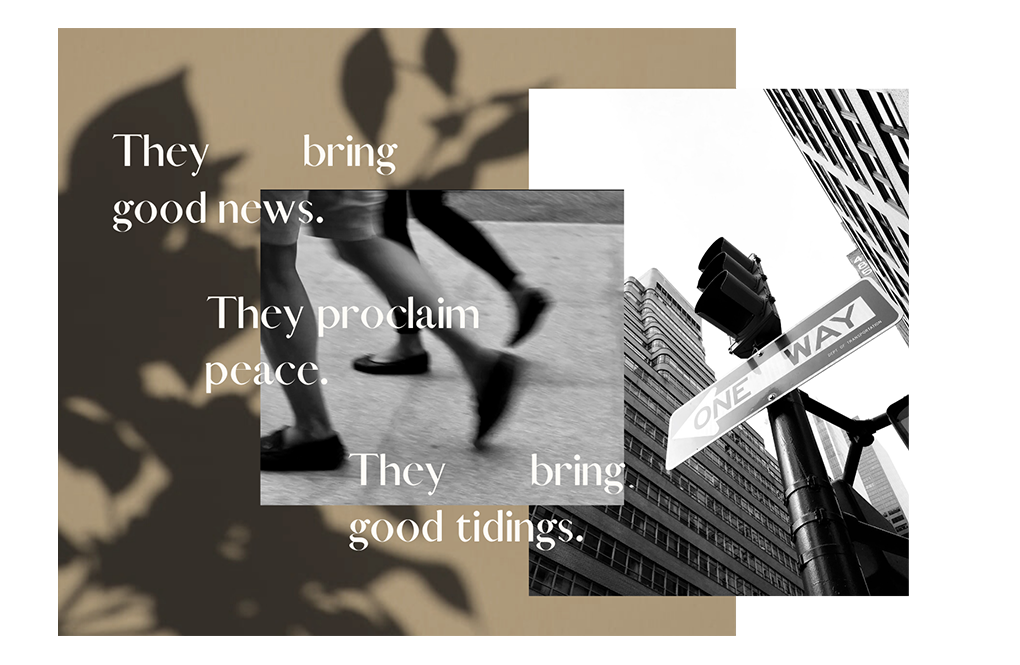 Peace in every circumstance

During lockdown, although many were at home, it was hard to find peace when considering the state of the world. People were challenged to incorporate moments of peace into their daily routines. Whether that was disconnecting from the news, calling a friend or setting time aside to be still. Our daily choices and actions, tied together with an intentional thought life, can help to nurture and build peace in our lives. However, despite our best efforts, peace isn't always something we can simply choose, as much as we wish we could. Galatians 5:22 teaches us that the Holy Spirit produces peace within us, even when we cannot choose it for ourselves: "But the fruit of the spirit is love, joy, peace, patience, kindness, goodness, faithfulness…" While we cannot always achieve peace through our own human strength, one of the miracles of "Christ in us" is the beautiful ability to find peace in the toughest of circumstances – beyond our personal strength, might and understanding. In fact, in our weakness, His power is made perfect (2 Corinthians 12:9).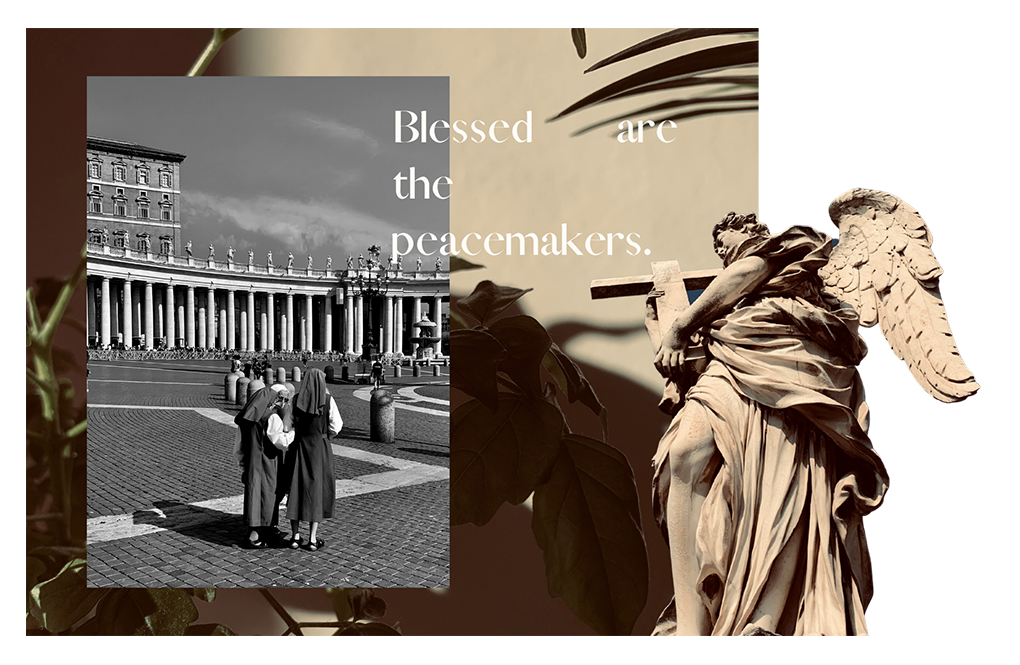 Peace>Understanding

Sure, it is possible to be intentional about finding peace but trying to find peace by sheer human strength is difficult. The world around us doesn't exactly proclaim peace. Turn on the news and it will look like peace is the last thing to exist on this planet. This is where Jesus' words come as pure light in so much darkness: "I have said these things to you, that in me you may have peace. In the world, you will have tribulation. But take heart; I have overcome the world." John 16:33 Jesus in reassuring his disciples states the obvious: in this world peace is hard to grasp. There will always be tribulations. The hope found here is in Jesus overcoming the world so that by looking to Him we can grasp that elusive peace. It is a peace found through a relationship with Him because thanks to Him we can also overcome. This is a peace that is nothing like the peace the world tries to achieve, it's a "despite" the turmoil peace not an "instead" of chaos peace. That kind of peace is priceless because He paid the price already in full. Philippians 4:6 reminds us that this peace can only be found in Jesus, it is a peace that will guard hearts against troubles, a peace that will bring the serenity of mind in the most unexpected ways: "And the peace of God, which transcends all understanding, will guard your hearts and your minds in Christ Jesus."