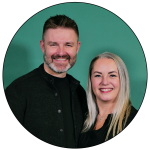 Christmas is a great time to come together to rejoice as we celebrate Jesus. God's peace, love and glory was birthed into our world and we pray that you would experience the fullness of these in this season.
We love you and believe for 2024 to be a year full of favour with God and with man.
Merry Christmas and have an amazing New Year!
Much Love,
Richard and Debbie van der Kolk
Lead Pastors Hillsong Church Netherlands