More than 400 people attended the 6th SRE Celebration Event in person at NSW Parliament on Monday evening, with a further 400 watching the webcast online, in what was the biggest celebration of Special Religious Education in NSW state's history. Several Hillsong Church staff and volunteers were recognised for the critical role they played in caring for their communities in going above and beyond during the COVID-19 pandemic.
After a break during COVID, the biennial multifaith Celebration of SRE was back in person on Monday 28th November 2022. Special Religious Education is a valuable part of the NSW Government schooling system, and an important way parents can choose to have their children educated in the faith of their family. At this event, there were presentations of awards for both outstanding service to SRE and student wellbeing and identity, and also for outstanding service to the community during COVID.
The event was emceed by NSW Jewish Board of Deputies CEO Darren Bark and attended by Education Minister Sarah Mitchell, Shadow Education Minister and Deputy Opposition Leader Prue Car, Multicultural Minister Mark Coure and Shadow Multicultural Minister Steve Kamper.
This time, the celebration also recognised the critical role people of faith played beyond SRE in caring for their communities during the COVID-19 pandemic, with dozens of community leaders presented with COVID Community Service Awards.
"These amazing community leaders work across the state to provide religious education for our students," Mitchell said. "I want to thank our faith leaders for their partnership and insights, and acknowledge all of our special religious education volunteer teachers for the work they do."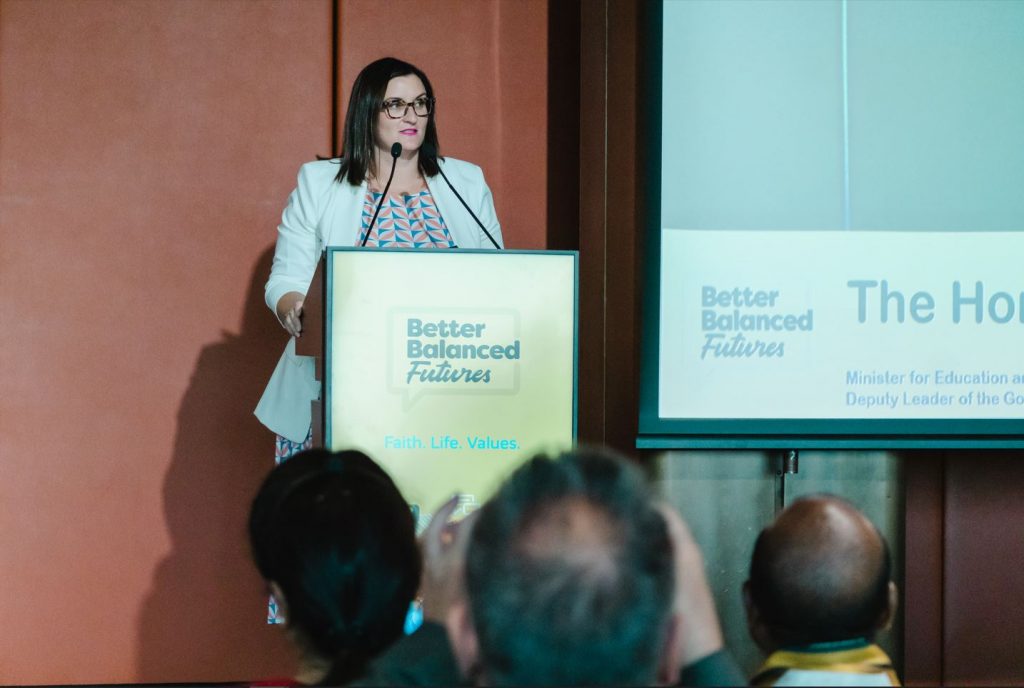 Education Minister Sarah Mitchell
Coure said, "I would also like to acknowledge the Heads of Faith, and all the faith communities represented on the night, for adding to the vibrancy of SRE in NSW, and for their work in the community to care for people in need during the pandemic."
The following staff and volunteers from Hillsong Church were recognised:
Pree Saker (Hillsong Church Volunteer) – Pree volunteered his time and professional experience in executive recruitment to support people who lost their jobs when the pandemic hit, and no work was available. He helped to pioneer the 'In Between Jobs' ministry with the Hillsong Church Hills campus pastor, Sam Di Mauro.
Carolyne Benn (Hillsong Church Volunteer) – Carolyne volunteers full-time in Hillsong Church's Pastoral Care department. During the pandemic, she called and emailed the many thousands of people who submitted prayer requests in 2020 and 2021. Not only does Carolyn pray for them, but she also considered it to be a privilege to be part of the most difficult part of people's lives.
Lyndelle Macdowell (Hillsong Church Pastoral Care Pastor) – Lyndelle currently leads Hillsong Church's Treasure Chest program across Australia. Families with children with additional needs were even more isolated than the general population during the COVID-19 lockdown. She developed a weekly YouTube Puppet show, an online program specifically designed for children with high-level autism to participate and an online camp for children with additional needs, providing much-needed support for these children and their families.
Margaret Aghajanian (Hillsong Church National Pastoral Care Australia Oversight) – During COVID-19, Margaret led a team of pastoral care pastors who, in conjunction with Safe Church and IT, quickly shifted pastoral care services and programs online to care for the church and community. This included delivering 1,271 emergency food hampers, sending out 22,945 text messages, and making 397,785 phone calls to the church congregation. In addition, they continued to run ministries that supported the following groups – medical professionals, married couples, the unemployed, and families dealing with illness and loss. Overall, the pastoral care team at Hillsong Church attended 90,728 pastoral care appointments during this period.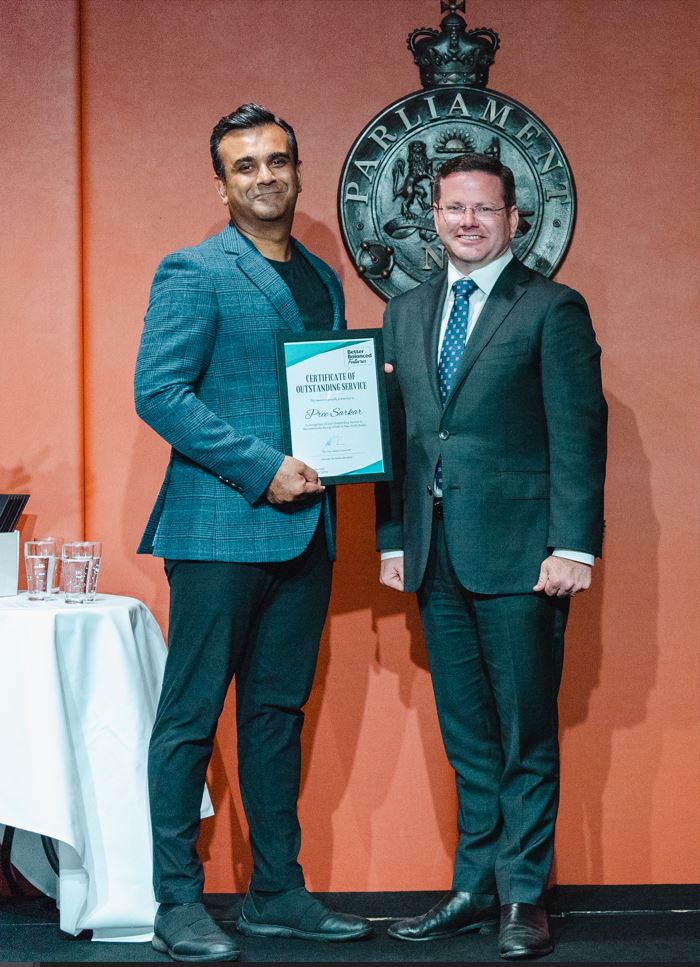 Pree Saker with Multicultural Minister Mark Coure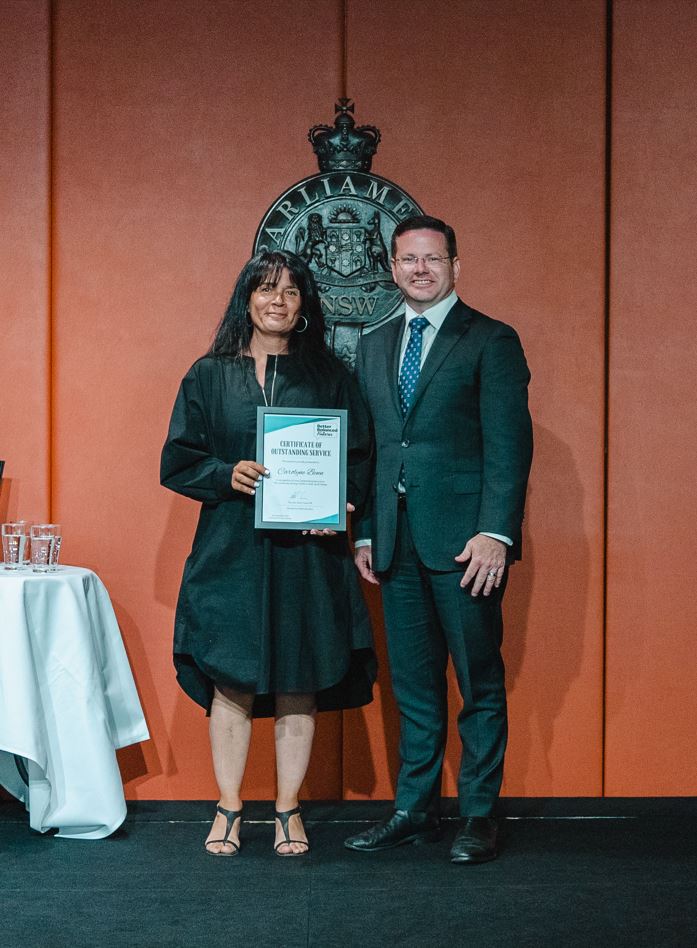 Carolyne Benne with Multicultural Minister Mark Coure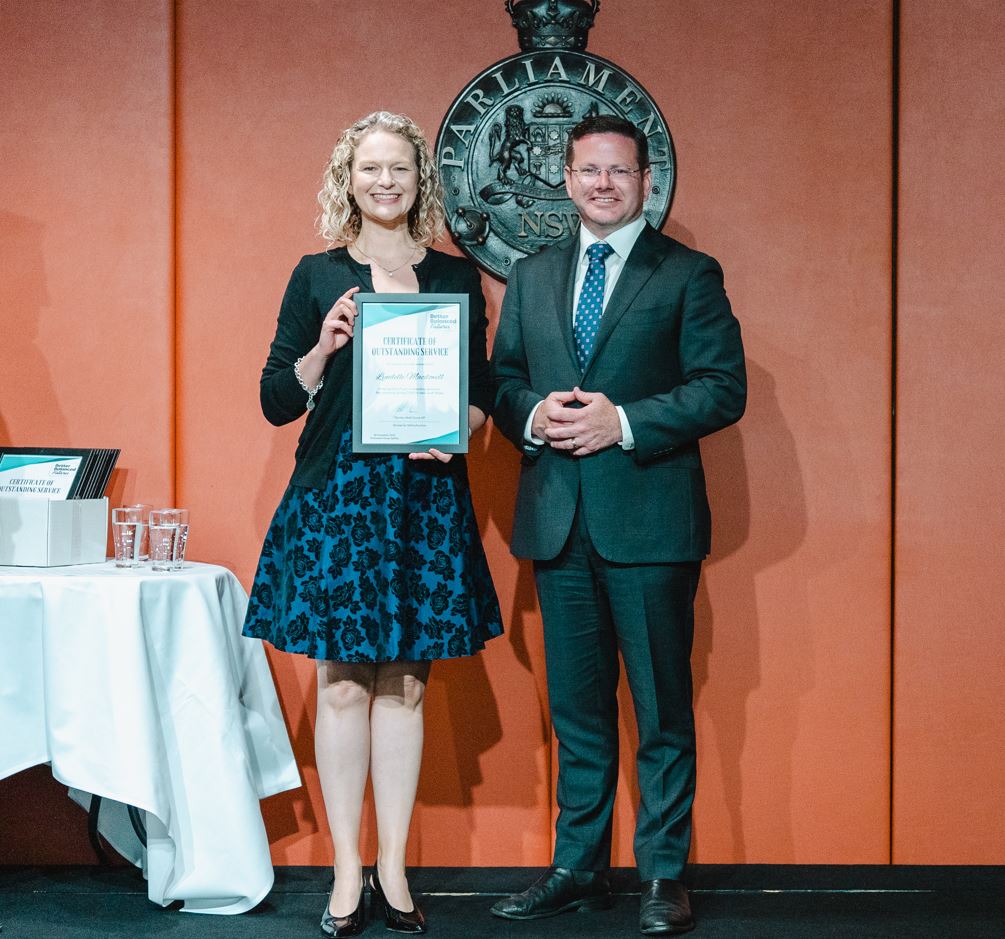 Lyndelle Macdowall with Multicultural Minister Mark Coure
To watch the event, visit www.avb-parlnsw.com.au/celebration-of-sre-2022.